Greetings from sunny, hailing, soggy, chilly Cornwall!
Just to let you know that I am so very happy at the thought of getting back on the road this Spring.
I missed touring England last year although the big Birthday Bash at the Theatre Royal Drury Lane was a pretty good substitute.
The boney finger of time is persistently tapping me on the shoulder so I have changed my regime slightly. I am trying to not wait for inspiration, but rather forcing myself to try to write something most days. This usually becomes "to do" lists or emails but sometimes involves poetic notes to self and sketching out some ideas that are preludes to poems or songs from time to time.
I have contributed a new song to the Fairport Convention Album Myths and Heroes. It's called Clear Water.
My young dog is keeping me busy. She is called Tulla (Norwegian for pretty girl). She came back from a trim looking like she was ready to be cooked and eaten. I preferred her as looking like a bath mat. My bonding with her was becoming unraveled. She is now definitely the ugliest dog in the world, but we are getting back on track though she is proving a challenge. She is a Cockapoo, what used to be called a mongrel. She looks more Poodle than Spaniel. I only take her out at night when no one can see me.
Just kidding!
Now back to a song I am working on!
See you somewhere down the road…
Before….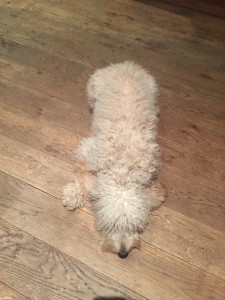 After….