Easy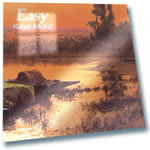 I'm not sure how the invite came to spend a few days down in Cornwall. An old friend from the Folk Cottage days had moved to a tiny hamlet near the village of St Ewe and was slowly doing it up. His name was Barney Potter and just for fun I decided to take up the offer and drove down with a change of clothes and my guitar.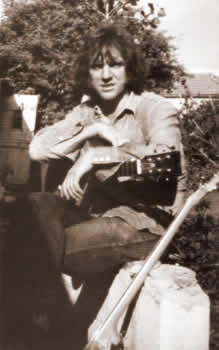 Barney lived with his wife and three beautiful little daughters in a two hundred year old freezing cottage. He was building a kitchen extension. I think most of the roof was on. It was March and his place nestled at the foot of a crossroads by a picturesque bridge complete with an elderly pensioner seated on a bench watching the world go by. The Cornish skies were sometimes blue and bright. Sometimes Cornwall thought it was a wet cloud and we could not see the pensioner on the bench even from the upstairs window. The weather was hard and crisp. We went to the local pub for warmth, ale and laughter with Barney's two lodgers a Liverpudlian called Alan and a London boy from Wembley called Mel.
Warmth in Barney's cottage was by means of an open fire which sent 98% of all heat directly up the chimney. Barney usually absorbed the other 2% by standing in front of it. He had a vast collection of vintage jazz records and a deep fondness for the Billy Cotton Band and knew several standards and could play them on his loud four string banjo.
Barney was a plumber by trade but also a builder. Some of his exploits and mishaps provided me with the idea of "Barney Bodger the Bargain Builder" in the TV series "Tickle On the Tum."
Barney was an unorthodox dad, amazingly strong, indefatigable, warm and kind and with his meagre income and incredibly generous. Somehow room was found for me and I felt I had walked into a scenario not unlike John Steinbeck's "Cannery Row" coupled with a true frontiersman spirit and opportunistic sense of survival. Occasional "road kill" meat found its way into the pot and once it was rumoured the boys had even tried badger. (apparently too tough).
I had never been in Cornwall at this time of year and the descent into the tiny valley was bordered with stunningly bright yellow primroses. Ferns were beginning to uncurl and water dripped off shining leaves. The whole place sparkled and shone with early spring. I commenced working on the songs for the album Easy.
In the biography by Chris Hockenhull there is a snap of me writing with Barney's banjo leaning up against his garden wall. I fell in love with Cornwall all over again and with Barneys help found a derelict cottage which together and with the help of friends we made habitable. I am sitting in that same cottage as I write these notes 33 years further on down the road.
There have been many changes in both our lives since those days Barney now has five beautiful daughters and umpteen grandchildren. He still lives in that same cottage at the foot of the valley. I have never properly thanked him for his inspiration and personal kindness to me until now. So Cheers mate and thanks for "EASY" Last month Barney had his sixty fifth birthday party at St. Ewe village hall. It was a great do.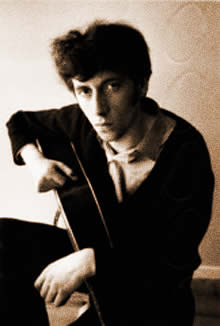 The first thing to say about the album EASY is that it wasn't. Business matters reared their uglies and changes had to be instituted to finish the album. Work had commenced with the marvellous Tony Visconti at John Kongos's studio in Mortlake. John had sunk the money from his huge hit Tokaloshe Man (produced by Gus Dudgeon) into a studio at his home in First Ave Mortlake.
He had converted a little corner shop into a beautiful home and then acquiring the house next door, mined his way into the combined cellars and built a state of the art studio – and I do mean state of the art. He even installed a full size grand piano that necessitated digging up the road and lowering the Steinway into the hole which meant that the ends of the full size piano had a special slot extending under his tiny front garden and into the road. Rather like a ship in a bottle everyone wonders how it got down there.
Tony had much to do with the organising of the sounds and allowed me to choose some favourite musicians like Danny Thompson and Wizz Jones. I called up my old friend Mick Bennett for backing vocal help and my former bassist Steve Bonnett played mandolin.
Sessions got off to a brilliant start with Take It Easy and When Maddy Dances. Dave Mattack's drumming on the latter is a mini masterpiece, ask any drummer to listen to his contribution on that track. Another favourite "rhythm meister", Gerry Conway, played on several other tunes. A major guitar hero graced Run Johnny Run in the person of Bert Jansch. This is a complex piece time-wise and Bert was the natural choice. It was a big buzz to have him on the record.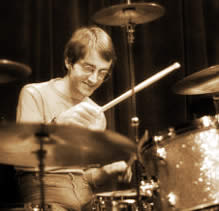 There were two fiddle players, Mike Piggott and Lindsay Scott. Mike has played with me for years but Lindsay we lost track of. He was the grandson of an old Scottish shepherd called Willie Scot who once sang at a Pentangle concert I heard at the Royal Festivall Hall. I cannot remember where I first heard Lindsay but I was incredibly impressed. He came down and recorded without more than a couple of run throughs and was absolutely marvellous. I'd like to know what he is doing now. We recorded those parts at Marquee studios (just behind the old Marquee club in Wardour St.) I remember.
One of the songs called O Positive was to have had Henry McCulloch of the Grease Band play on it. Unfortunately when he arrived he appeared with little Jimmy McCulloch of Stone the Crows. To say they were slightly "over refreshed" would be an understatement. Both of them played on the recording and after about two hours Tony felt that he had got what he wanted and allowed them to wobble off into the night. It was to be the last time I saw Jimmy who died later from unrelated causes. Henry and I still meet up occasionally although not surprisingly he has no proper recollection of the session. He went on to join Wings and is still making great music. The track was basically unmixable without Tony and mercifully lays in some forgotten vault somewhere hopefully resting in peace.
Things were going well when Tony Visconti's manager tried to get us to sign with his "Rare Earth" production company. My manager was my brother Bruce and he thought it a bad idea, this resulted in Tony being taken off the record and I being left to sort it out.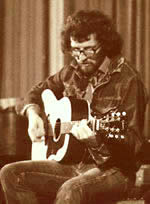 My great pal, double bassist, Danny Thompson offered huge support and even played drums (bass drum and hi hat) on Stuff No More which was improvised live in the studio whilst our friend Ivor nipped out to buy extra rations of wine. (I included thanks to him in the song). I always felt it strange that of all the carefully written and worked up songs on this record Stuff No More was the only song that got covered for years, before versions of Let Me Down Easy eventually began to appear.
Danny and I continued to work on the album and the more spare the recording the more likely it is to have been our decisions on instrumentation etc. However Tony was responsible for the voicing on Maginot Waltz and Zig Zag Line which points up his sensitivity as well as his more commercial approach on tracks like Truckin' 'lil Baby (There were twelve overdubbed acoustic guitars used to make that wall of sound) and on Teacher Teacher we got Henry (VIII) Bartlett from my old jug band days to play jug bass. His accolade to Tony was that it was the best recording of a jug that he'd ever heard!! These titles are included in the re issue version although they were recorded at a different time than the Easy sessions.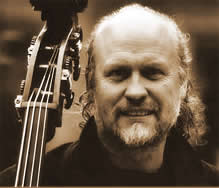 I became more relaxed as the recording went on and the final three cuts were all delivered on the same day with some lovely sympathetic bas playing from Danny. On Summer Lightning we even arranged for the great Stan Tracey to play some piano on it. It was very impressive but just a bit too far off the diving board for me. Danny's intro to Would I Lie To You? is one of my favourite of all time, and side two of the L.P. became generally the favourite.

The cover painting was by the artist Enrica Y Auque Serra. Billy Connolly told me in so many words how much he admired the picture on the sleeve. It was one of a pair of very popular Victorian prints popularly known as Morning and Evening. I decided to try and locate a copy for Billy and after combing antique shops for years I found a mint couple and bought them for his birthday. On presenting him with them I thought he looked a bit bemused and puzzled, but it wasn't until years later that I discovered why. It was not the cover painting he was referring to but the photo of me inside the gatefold that he was commenting on. (The reason for the slightly bizarre pose was that I had just been told the session was over and I leapt to my feet shouting "YEAH, Hooray" I have a loathing of being photographed formally) and the photographer snapped me with the last shot. It was the one everyone preferred and so it stayed. I must find out what Billy did with the two prints sometime.
The bottom line to this story is that when my wife Nanna's great Aunt died she left her an old painting and it turned out it was by the same artist: Enrico Y Auque Serra.
This album came out during my biggest ever year in terms of touring and was my first ever chart entry. According to the music magazine Melody Maker I tied at number thirty with "The Best Of The Supremes" and
"The Beatles Greatest Hits". Eventually I also received a silver disc for sales of this album.
Ralph McTell