Eight Frames a Second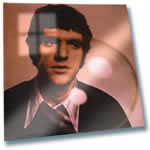 Paint the soul. Never mind the legs and arms"
My first album was a triple first. It was Gus Dugeon's first production, Tony Visconti's first arrangements and my first professional recording. The sessions commenced at Pye recording studios and I vividly remember my first day although I am not sure if it was in 67 or 68. I arrived at the studio and all the musicians were there, including a guitarist.
"What's he doing here?" I discretely asked Gus
"He's going to play guitar" Gus explained
"Well what will I do then?" I asked
"You can strum along as well," said Gus
The session could have ended there, I nearly walked out right then because all my songs are born out of the guitar parts and my guitar style is integral to the song. I thought of myself as a guitar player who just happened to write and sing songs. Had no one noticed? I was crushed and depressed. It was only much later that I realised I had been signed as a singer songwriter and my guitar playing was a secondary consideration.
This was another bitter pill to swallow. I saw myself in the tradition of guitar singer songwriters a la Bert Jansch and here I was surrounded by session musicians about to record my first album and invited to "strum" along. I think Tony Visconti explained to Gus my sensitivities and a mic was set up for my guitar and I became an integral part of the arrangements. Among the famous names on that first session were Clem Cattini recently of "the Tornadoes" (Telstar) and Jack Emblow (piano Accordion)
As Tony Visconti counted in the musicians for the first song, I was relieved to notice that his hands were shaking slightly just like mine, and no wonder. Only a few days before Gus had given him a book called "How to Arrange" (or some such) and told Tony he would be doing my sessions.
I guess like all those new to the job Tony may have tried too hard to impress and threw in the metaphorical kitchen sink in the form of a Cymbalum, (A kind of grand piano version of a hammer dulcimer) which stood out amongst all the regular instruments needed for the job. It was played by a Hungarian gentleman who had a very strong accent. He was very reverential to its national identity and a little bewildered by what Tony wanted him to do. He even proceeded to give us a recital of pieces to show us what the instrument should sound like. It was a special moment on the session. Tony had to explain that it was just the "sound" he was after. (Title track Eight frames a second) and we got it done in a couple of takes. I found it very difficult to work to a music chart as I could not and still do not, read music and the repeated takes were trying. However, most of the songs were recorded that day and my solo efforts on another. I was very happy with "The mermaid and the seagull" and even thought the addition of waves and seagulls was nice. I rattled off "Hesitation Blues" in one take and also the wrongly titled "Blind Blake's Rag" This was an amalgam of tunes I had learned in Paris from my friend Gary Petersen. Probably the most exciting moment came for this young songwriter when the violins commenced to overdub their parts on the title track. I thought Tony was really cool to make my song sound so good. I was just amazed by the way the songs sounded with the other musicians but I had never worked like this before and although everyone was encouraging and supportive in the studio I thought I would have been happier and sung better had I been on my own, which after all is what I was used to.
Nat Joseph, the head of Transatlantic Records had never put money up for arrangements before and indeed Gus had only got the job of producer, because Gus's wife Shelia, was Nat's secretary. It was she that told Nat that her husband, who was a house engineer for Decca was dying to produce a new artist. Nat gave him me. I think Nat was horrified when Gus asked for more time to complete the album. There was no more money available so Gus, who was still working at Decca studios, smuggled me in on several Sunday mornings and we completed the overdubs in the empty building off West End Lane.
Part of my deal with both Essex Music and Nat's publishing company. "Heathside Music" was that I should record two of their copyrights. I was not happy about this but I was scared it might be a deal breaker. I agreed to record "Morning Dew" as recorded by Tim Rose but written by Bonnie Dobson, and a tune called "Granny Takes a Trip" recorded by the Purple Gang. The latter was recorded with the session guys as opposed to my wonderful jug band featuring Henry Bartlett and Whispering Mick Bennett, and I thought it gimmicky and although a good song of its time, I would not have volunteered to do it. The other song, "Morning Dew" however was another story entirely. It had already been superbly recorded by Mr. Rose and I was quite flattered to think the company thought I could do a number on it.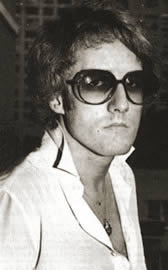 After several attempts at overdubbing the vocal and finding it very difficult to emote and stay in tune with the headphones on, Gus stopped me and said, "Come into the studio and have a listen". In the control room it was obvious that I was a long way off a "take" and Gus offered to go out into the studio to show me how he wanted me to do it. I dutifully pressed play and record at his signal and Gus gave it his all. It might have been the pitch that was wrong for him as he certainly struggled to reach some notes. All the time he was hopping about like Mick Jagger and generally throwing himself into the performance. I was totally unprepared for this alter ego and found it absolutely hilarious. By verse two I was in tears of laughter and when he came in to listen to the playback he could not even see me as I had slipped to the floor and could not catch my breath for ages. "You bastard" laughed Gus and when we played back the tape he was soon in hysterics as well. By such incidents are friendships sealed and we were proper mates from that moment onwards.
I was also persuaded to record a song by a Canadian newcomer. I was to be honoured with the first cover version of a song all the publishers were raving about. It was arranged by Tony in a key too high for me. I could make no sense of the words and found the tune and the original singer rather mournful. I was very relieved when my version of "Suzanne" by Leonard Cohen was rejected. I cannot help wondering sometimes how different it all might have been if it head been included.
The entire LP had cost £350.00 and that included a £12.00 advance to me to buy a new jacket for the sleeve photograph, which in the end I did not wear. Incidentally, the photographic sleeve concept failed. The idea was to take three photos of me with three different filters over the lens, red green and blue. Provided I stayed still while they blew the bubbles, I would have emerged in natural colour whilst the soap bubbles would still be in their primary colours of red green and blue. Clever eh? Shame it didn't work.
In spite of the two dodgy cover versions I was very pleased to have a record out. I was in the company of Bert Jansch and John Renbourne and soon to be joined by Billy Connolly and Jerry Rafferty. It was a very exciting time. For the life of me I do not know how the company broke the album as the only airplay I was aware of came from a solitary broadcast on the John Peel show one afternoon, whilst I just happened to be listening. Anyway, the album must have sold well enough for the company to look for a follow up.
My only trepidation about it remains that one day someone may dig up that dreadful mystified version of Suzanne and put it out on some compilation. Sadly, they will never find Gus's version of "Morning Dew" because it was wiped when I recorded the existing vocal.
The whole album was recorded on four track and mixed to MONO! Later a version with a green cover was mixed to a basic stereo for USA and Canada.
Credits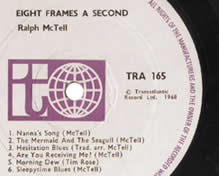 Double Neck Guitar: Mac McGann
Jug: Henry VIII
Washboard: Whispering Mick
Mandolin: Bob Strawbridge
Arrangements and Musical Direction: Toni Visconti
Availability
Eight Frames a Second is no longer available in the original format, although many of the songs can be found on various compilations released by Transatlantic over the years.