My Side of Your Window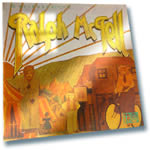 In spite of the success of Spiral Staircase I was not entirely happy with my recordings. I have to say that I always hoped for a much earthier approach in sound than I was getting. My own writing tended to be reflective but I was still anxious to let my roots show. The guitar was and still is my driver and I squeezed a Robert Johnson number and two jug band compositions on to the Album just to show that I had not left that particular field entirely. The truth is I was seduced by the richness of strings and arrangements and as I have always sought melody over rhythm, the songs just seemed to open out and become huge to my ears. On my next album I persuaded Nat Joseph to let me have a go at producing myself.
With the aid of Tom Allom at Regent Sound in Tottenham Ct Rd I commenced recording sometime in 1970. I had some more edgy stuff to put down and hoped that songs like 'Michael in the Garden' and 'I've Thought About It' might harden up the soft perception I thought I was getting. It was an amazing time in many ways. The Paris riots had come and gone, radical student protest was closing some colleges, music and politics were the power, everything was changing and I had a guitar and two albums out and felt very much part of it all, in a quiet way.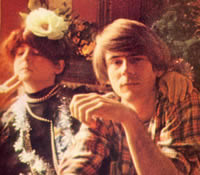 I had left college and was out on the road playing nearly every night of the week. I think I was with Blackhill Enterprises at this time and I travelled hundreds of miles a week in my old mini van playing small back rooms in pubs that were packed to the rafters. I thought it was the same for everybody on the circuit. I had moved to our first house in Putney and was sharing my success with every waif, stray and hanger-on in the area, staying up late and talking into the small hours whilst my young family somehow coped with my need for people and re assurance that all was going well. Clive Palmer (Ex Incredible String Band) was helping me make some wardrobes in the house and old friend and part time washboard player was helping him. I decided to use the two friends on "Blues In More Than Twelve Bars", and we rehearsed at home that morning and the boys joined me later in the day and we put it down in two takes. Clive and Mick returned to their carpentry and I carried on.
In those days we only had four track recording facilities and this meant that I had to sing live with the bands or accompanying musicians or try to overdub vocals with headphones (cans). Neither method suited me and I was disappointed with much of my strangulated vocals. It was much better when I sang and played guitar on my own. In spite of my pleading with my American friend Gary from Paris days not to, he had moved to Croydon to be near Nanna and me. I spent hours in their apartment very near to where I grew up. Gary was always playing and one tune particularly took my ear. He was playing in A shapes with the bass string down to D and the tune was enchanting. We began playing it as a duet and eventually I wrote the words to "Girl on the Bicycle".
This was my first co-write and was a big hit in Holland and Germany performed by a man called Herman van Veen. This was all in the future and Croydon's charms were wearing thin. Gary persuaded old friend Bruce Barthol (Country Joe and the Fish) to leave that band and come to England and form a band with him. Fellow San Francisco guitar player Phil Greenburgh joined these two and the boys commenced endless stoned rehearsals in the flat at Bramley Hill.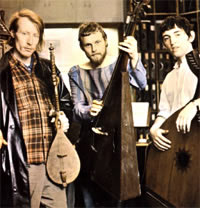 I had always been a huge admirer of Gary and the music they were playing was astonishing. They were experimenting with time signatures and Mexican mariachi riffs. Seven eight time and nine. The trouble was there were hardly any drummers who could play this music that weren't jazz players and they routine dozens before settl ing on the amazing John Marshall and commenced rehearsals again. They eventually recorded an album and called themselves "Formerly Fat Harry" I asked them to play on "Wait Until the Snow" and "I've Thought About It. I had to sing live on both and it could have been better from me. I was heartened to learn from the boys that my fade out riff on "I've thought about it" was in eleven:eight time. I have to say I planned it but had no idea of the signature. I guess I thought some of their intense musical ability would come through me but this music is almost mathematical and I have no grasp on numerical abstractions. I found it stimulating to try and fit words against this weird stuff and greatly enjoy doing it still if the song ideas suggest it i.e. "Cowboy", "Little Actress","Run Johnny Run" etc.
On "Wait until the Snow" my playing the tune in open D tuning further complicated the song. The voicing in this style is so attractive but any nuance gained by the unusual resonances from open strings on the guitar was lost once we started playing ensemble. I also found a strange tuning for "Clown" whereby I tuned both the top and bottom E to D. This gave an eerie sound to regular chords and I wrote the whole tune before any words. This was probably one of my favourite tracks on the album. I have always found clowns slightly sinister and I was beginning to trust that the song would go somewhere without having a planned ending. The piece ended up having some thirty inversions and yet it is such fun to play and not difficult. I had to play piano for the first time on "All things Change" and I still wince slightly at the fumble on one part of the playing. No one noticed it and Mike's strings were written around it and the cellist that did the session was actually the same man who had played on Eleanor Rigby! Without doubt though the "hit" on this record was "Factory Girl".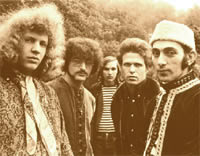 On the Council estate where I grew up the sound of the girls voices would often awaken me before eight when they would meet at the alley to cross the Purley Way to the factories across the main road. On my return from school they would be starting to drift back from work with a different tone to their chatter. I had several goes at getting a good version of this but I was very happy with the slide guitar from Gordon Huntley of "Mathews Southern Comfort". On my trips around the folk clubs I came across a band called English Tapestry. They were blessed with a fabulous singer called Ruth Britain and their vocal harmonies were stunning. I got them to sing on "Kew Gardens" and although I had changed the arrangement slightly when they came to the studio they sang beautifully and I think they only got one take at it too. I had never been to Kew but my friend Mick had been there on a trip and it was his description that inspired this song. "Silver Birch and 'Weeping Willow" resolves with an unknown girl from the offices upstairs saying "Hello". This used to make the writer Eric Winter jump every time it came on as it sounded just like his daughter he later told me.
Once again my friend from Art College days, Peter Thaine produced a stunning piece of work for the sleeve. He made a three-dimensional cut out theatre type model and we moved all the characters in the songs around on their stage. He even put in the Whitgift Arms. Unfortunately the photographer failed to light the scene so as to bring this effect out properly but now that you know, next time you look at it, you will see.
My studio engineer Tom Allom was affable and very helpful on this recording and Nat Joseph was positively excited by it. It seems he had been looking for me to do something with a harder feel to it and this he thought was the album. Certainly things changed very radically with the next few months as the influence of the song from my previous album began to exert its power over the course of my life. Meanwhile Mick and Clive had completed the two wardrobes in our upstairs bedroom. They looked like two Jewish coffins and Clive explained that a true carpenter does everything by eye without a ruler. Cetainly Mr Chipendale had nothing to worry about, even if I did.
Ralph McTell